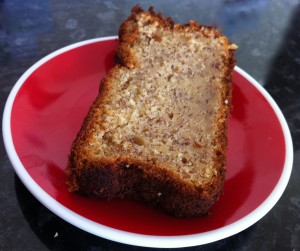 I enjoy baking. Rewind 20 years, and I would not have been caught saying such a thing. I was taught that baking and all things culinary were part of my 'responsibilty as a future dutiful wife' and I can assure you I had no intention of running a home, being a housewife, a mother, or electing to make food rather than business (little did I know that you get to do all of that even if you are running a business - hello juggling). I rediscovered the idea of cooking and baking when it struck me that baking is
scientific, process driven, ripe for experimentation and quite fun.
And you get to eat something that may taste half good. So I practice whenever I get the chance. I would never claim to be talented, but on occasion I get all the factors right and produce a winner. Pretty much like the
art of brand building.
Last week I made banana bread. (I also made some brands, this is my view on the parallels). When you are
making a small business brand,
chances are that you are limited in financial resources, time, and possibly even the understanding of what you should be doing to build a brand. If we agree to think of your brand as the mixture of associations and values that make up your business or
product's personality
and what people think and feel about you, then let's get back to the banana bread view of making a brand.
As with baking banana bread (cake):
If you are baking
your own brand
, it's pretty impossible to imitate someone else's if you are reflecting your business. The process and outcome are subject to what you do and why, your experiences, and way of interpreting what you should do next and in what proportion. The result of what you have baked, brand or bread, will be unique, and
it's imperfections could very possibly add to it's appeal.
If you create a brand that is
authentic
- believable, something people can relate to - you are on to a winner. There are set ingredients and proportions, but how long you mix for, the state of your bananas, how fresh your raising agent is, the temperature of the oven all change the
degree of successful outcome
. Once you have put all the elements of your brand together, don't think the work is done. You need to be consistent, persistent and time things right. When it comes down to it,
you can make one with only basic equipment
(you can use a mixing bowl from the pound shop or one from selfridges - little difference). If you are communicating a
single minded brand
on a business card and in your networking pitch, it is successful branding. Money spent doesn't guarantee your branding efforts will bring sales.
Don't be shy to add a little spice
. Nuts, seeds, fruit, even. If you and all your competition all make banana bread, the detail you add will make you special. As for banana bread having to be made only in one set way, with accurate measurements - there is
no proof that the scientific method is a better way compared to good old instinct.
You'll find too many examples of both. It's about preference and using what you have. Whether it is a branding expert, or your ability to learn from what's around you. Ultimately, if you are
building your own small business brand
, know that you can create a brand without knowing it all, you don't have to learn it all, you can make some assumptions, sometimes it will hurt you, sometimes you'll flop, but occasionally it will be sheer perfection (and with any luck not a mystery as to how it got like that). Don't forget that if you want to bake banana bread,
it is a big help to have a recipe.
Otherwise it can take an awful lot of experimentation mixing all sorts of ingredients and proportions, and a long time before you are happy with the results.
Don't forget to share.
You might want to eat an entire banana bread loaf, once, but you get a lot more feedback about your technique and product by sharing it. You'll gain an awful lot more useful feedback by getting into the habit of asking, rather than waiting for someone to volunteer something. People usually manage to swallow your piece of cake, even if they think nothing good of it - but it is rare indeed to find someone who will tell you that (as with your brand), but less so if you are in the habit of asking (and listening to the answer!). It certainly can be an
accelerator getting an expert to help you
with the right bits with your brand and marketing, but there is no reason why you can't do it yourself. Until you are too successful to spare the time. Bronwyn Durand writes Marketing Voodoo for JupiterJasper,
the marketing mentor for small businesses
.