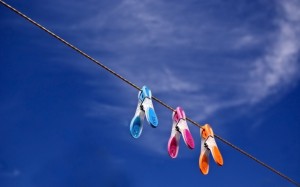 Marketing a small business can be really tough. Finding the resources, time and know-how is not easy. So you may well be thinking
'I'm happy I have any marketing at all, let alone worrying about whether it is all joined up'.
For a small business, if your  marketing is not joined up, it could be working against you. It could be confusing your potential customers.
How do you know if your marketing efforts are not joined up?
•
You have
various versions
of your logo, strapline, key things you say about your business
•
Any
online directory advertising
, whether free or paid, has a different approach, maybe even different contact details, and you haven't gotten around to fixing them
•
You may have used a
variety of different providers
to make marketing materials for you - a designer here and there, a friend of a friend did your website, and so on.
•
You've responded to opportunities to
advertise or market your business
as they have presented themselves, without looking at a bigger picture - as to whether they make sense for your target markets, and you haven't really checked to see if they have had any effect
•
Your
website
is merely an online version of the brochure you did x years ago
•
Your
marketing materials
may not even mention your website address.
•
When you do marketing, it tends to be
a stand-alone something
, like a single leaflet drop or creating a brochure.
•
Online advertising tends to direct to the
home page of your website
as a landing page. OK, perhaps some of that has rung true for you. Don't panic. It's pretty normal to have most of those, if not all of them as the way it is for a small business. Which is why it is even more important for you to do something about it - you an gain
competitive advantage
over your rivals by simpler marketing your business more effectively. And you can do that by applying some joined up marketing thinking.
So what is it?
Joined up marketing is a way of tying all of your online and offline marketing efforts together - to best serve your goals and reach your target audience clearly. What you are doing is using different kinds of marketing to speak to your ideal customer and lead them into a sale or closer relationship with you, but you are connecting them with a consistent message, and allowing each bit of marketing to work in partnership. A brochure directs to web, a Twitter profile directs to a special landing page on your website that even mentions you are attending an exhibition. It may apply to a campaign for something specific, or be your general marketing. At JupiterJasper we call that
integrated marketing
.
Here are some tips on integrating online and offline marketing for small businesses
1.
Define the purpose of your website
Your website can become a central part of integrating your marketing. It is more cost efficient to change frequently, and you can use it to:
Educate visitors
about product or your business in greater detail - full specifications, case studies or even simply photographs. This means you what you give offline can be concise and to the point, inviting them to interact for more detail, and your site could again invite them to be contacted by a representative to discuss your needs
Direct traffic
- drive to web (lead prospects to your website from offline marketing, or even your business card)
Analyse
(with the right tools in place, your website gives you visibility of which offline activities are generating interest or encouraging people to act - assuming that you direct them to web). You may even learn what people most need to know about by interacting online - which is very useful for your sales people in dealing face to face. Watching behaviour can teach you a lot about why people will and won't buy from you.
Learn
- ask prospects and customers questions. Find our what they think about your business and what their needs are. Follow up with email giving them the right information, or addressing their concerns. Invite them to sample your product, or give them a discount on entry to an exhibition where you will exhibit. 2.
Use different channels to create an experience of your busines
s
Blog
- use it to demonstrate different aspects of your business - you can draw attention to your strengths, demonstrate how well you perform, present case studies in a more personable way, or simply show the range of your expertise. It's useful for creating brand associations, dealing in opinion and creating a platform for an audience to interact.
Social media
- use to it do great customer service, answer questions, reach your ideal customer, or in fact to deepen a relationship with someone you met at a networking event, or the other way around - go to a tweetup.
Customer service and back-office
- make every interaction with your customer have a marketing mindset - even if it is simply to make the customer happier. Make a promotional space on your invoice to present your special offer, or talk about a new feature on your website. Fix complaints via Twitter. If you dare.
Face to face
- Networking can be integrated with a great, personalised, 'nice to meet you' email. Your sales team can use your website's product videos to demonstrate your product, LinkedIn can support your credentials in a meeting. A workshop can be recorded and repackaged as an online showreel or freebie to encourage newsletter signups.
Email -
Make newsletters that people like to read, and have them link to appropriate landing pages.
SMS
- Do a limited time offer on a landing page that you publicise through an SMS message to opted in customers. 3.
Be consistent with your branding and business messages
Consistency will mean that your ideal customer can recognise all parts of your joined up marketing. 4.
Make sure your employees are in on it
A hugely under-utilised marketing resource, forgetting to update and enthuse your employees about your marketing efforts will certainly stop your joined up marketing in its tracks. 5.
Make sure what you do is appropriate for your target market
It's all too easy to get carried away with a great idea for a joined up campaign, but if it doesn't reach the right audience, there really is little point. At
JupiterJasper
we live for integrating marketing for small businesses.
This post is part of the #JUMPchallenge, a blogging competition designed to raise awareness of how to join up online and offline marketing, launched to support Econsultancy's JUMP event.
Bronwyn Durand writes the Marketing Ideaology Blog for JupiterJasper, an on-demand marketer service for startups and small businesses.